The 2022 Senior Amateur Tour Championship will be held October 19-20 with a flighted skins game on October 18.
Congratulations to the 2021 Senior Amateur Tour National Champions!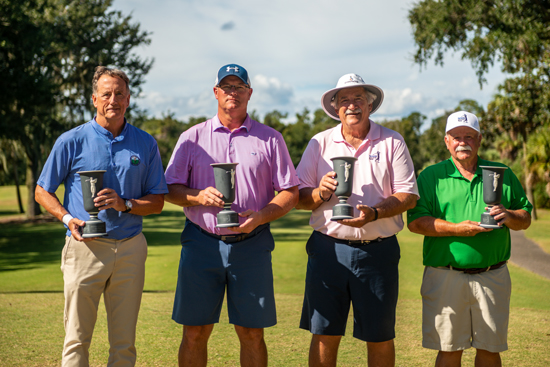 Left to Right: Dale Fuller, Eastern NC- Championship Flight
Clark Huntey, Tampa-Sarasota, FL- A Flight
Les Bradley, Louisiana- B Flight
Larry Maitland, Southeast VA- C Flight





HILTON HEAD ISLAND, S.C. – Over 376 players competed on five courses—two in Palmetto Dunes (Trent Jones and Arthur Hills), Hilton Head National, Oyster Reef & the Palmetto Hall's Robert Cupp course—making this the largest Senior Tour Championship field ever.

Dale Fuller from the Eastern NC tour won his first ever Senior Amateur Tour Championship title in the Champ Flight by one shot on the final hole over Central Carolina's Craig Sturdivant. Dale Fuller shot rounds of 71-70-141 for a two-under-par, two-day total which included birdying the 18th hole at the Robert Cupp course for the victory. Craig Sturdivant (Central Carolina) pushed Fuller all day with his 3-under-par round on the final day posting rounds of 73-69-142 to place second and David Cauthen (Charlotte) was third with 72-71-143. Chad Frank (Orlando, FL) 74-71-145 and Bryan Benton (Jacksonville, FL) 74-72-146, George Harris (Charlotte) 73-73-146 and Steve Kubik (Eastern, NC) 72-72-146 all tied for fifth with Benton winning fifth on the card playoff.

In the A flight, Clark Huntey (Tampa-Sarasota) won by four strokes over two other Louisiana players. Huntey's winning scores were 71-75-146 followed by Ronnie Averett (Louisiana) 77-73-150, and Doug Cristina (Louisiana) 72-78-150. Tom Burlison (Columbus, OH) with 76-76-152 was fourth and Marty Clemens (Indiana-Western KY) finished in fifth place with 80-73-153.

Les Bradley of Louisiana fired a two-day total of 78-81-159 to win the B Flight Championship by just one shot. Travis Ehle (Indianapolis) finished in second at 160 followed by Boyd Laughlin (Hilton Head) and Dave Parker (Indianapolis)both with 161. Beth Hunt (Myrtle Beach) finished solo fifth with 163.

The C Flight Champion came down to the final hole to determine the winner. By only one shot, the victory went to Larry Maitland Tour Director of the (Southeast, VA) tour. Maitland fired rounds of 89-82-171 for his first ever National Championship. Bob Passarella (Chicago) was second at 172 and third place went to Greg Summerlin (Jacksonville, FL) with a two-day total of 173. Mike Strickland (Southeast, VA) was fourth at 174 and Paul Golden (Arkansas) finished in fifth with (175).

The Jacksonville, FL tour took home the Team Cup winning by eleven shots with a two-day total of 1275. Louisiana finished solo second at (1286) followed by Central Carolina (1290), Charlotte 1296 and Orlando rounding out the top five teams at (1305).