2020 Tour Championship
Congratulations to the 2020 Senior Amateur Tour National Champions!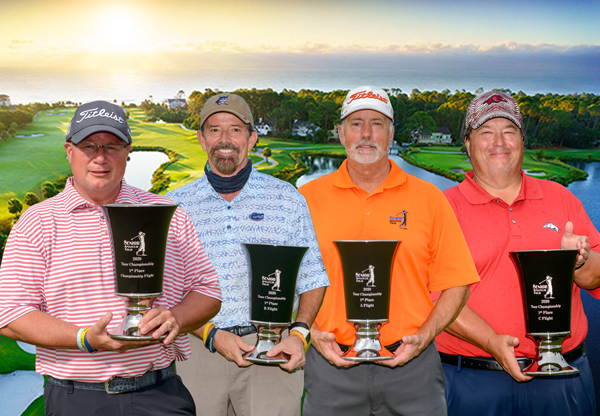 Left to Right: Michael Dennis, Michigan- Championship Flight
Jim Flowers, Jacksonville, FL- B Flight
Bill Phillips, Charlotte, NC- A Flight
Robert Luter, Arkansas- C Flight





HILTON HEAD ISLAND, S.C. – Michael Dennis from the Michigan tour won his first ever Senior Amateur Tour Championship title by four shots over Nashville's Derek Riley. Michael Dennis shot rounds of 69-71-140 for a four-under-par, two-day total which included a hole out in two shots on the par four 10th hole at Oyster Reef.  Derek Riley (Nashville, TN) posted rounds of 71-73-144 to place second and Rich Campbell (Columbus, OH) was third with 72-73-145. Chad Frank (Orlando, FL) 74-72-146 and Ed McDugle (Nashville, TN) 73-73-146 rounded out the top five spots at 146.
Over 380 players competed on five courses—two in Palmetto Dunes (Trent Jones and Arthur Hills), Dolphin Head CC, Oyster Reef & the Palmetto Hall's Robert Cupp course—making this the largest Senior Tour Championship field ever.
In the A flight, Bill Phillips (Charlotte, NC) won by one stroke over three other players. Phillips' winning scores were 74-78-152 followed by Jeff Carnacchi (Nashville, TN) 78-75-153, Keith Thomas (Central Carolina) 77-76-153 and Richard Johnson (Eastern, NC) 74-79-153. Rounding out the top five spots was Joe Natola (Chicago) with 74-80-154.
Jim Flowers of Jacksonville, FL fired a two-day total of 79-78-157 to win the B Flight Championship by four shots.  Dave Schrott (Jacksonville, FL) finished in second at 161 followed by Glenn Whalen (Chicago) solo third at 162.  Edward Greenfield (Arkansas) finished fourth at 163 and Hollis Peery (Central Carolina) beat out two other players in the tie breaker for fifth place.
The C Flight Champion came down to the final hole to determine the winner.  By only one shot the victory went to Robert Luter from the Arkansas tour with a two-day total of 165. Eddie Jaggers (Central Carolina) was second at 166 and third place went to Steve Taylor (Jacksonville, FL) with a two-day total of 170.  Ron Vail (Phoenix, AZ) was fourth at 175 and Mark Detillier (Louisiana) wound up in fifth with (176).
The Central Carolina tour took home the Team Cup winning by five shots with a two-day total of 1275.  Charlotte NC finished solo second at 1280 shots followed by the Jacksonville, FL (1283), with Louisiana and Eastern, NC tied at (1330).