2020 Tour Championship
WhatsNew: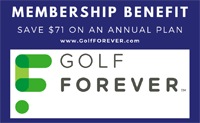 Sign up today for Golfweek's FREE newletters reporting on the latest and greatest happenings in the game of golf.

ALL PLAYERS MUST PRESENT A SIGNED WAIVER AT REGISTRATION AT YOUR COURSE ON FRIDAY. WE WILL PROVIDE BLANK WAIVERS FOR ANYONE THAT WAS UNABLE TO PRINT. PLAYERS THAT DO NOT TURN IN A WAIVER WILL NOT BE ALLOWED TO PLAY.

We ask that you read and familiarize yourself with our Frequently Asked Questions and Itinerary so that you are aware of changes to this year's procedures. Due to any COVID developments, all information is subject to change.
PLEASE NOTE:
Masks will be required at check in and players will be required to sign a COVID-19 waiver confirming your health status and acknowledgement of our policies. The waiver is available above for you to print out and sign. No player will be allowed to play without returning a signed waiver.

We will be doing temperature checks during registration on Wednesday as well as handing out your welcome packet. Players will be required to wear a mask and complete a temperature screening EVERY day while checking in at the course. Players that fail to check in and have the temperature check each day will not be allowed to play and will not be refunded.

No spectators will be allowed at any course at any time during the event. If you are being dropped off, your driver must leave the course immediately.

Immediately after completing your round each day, we request all players to leave the course.
We ask that all players familiarize themselves with their respective home state guidelines prior to arriving in the Hilton Head area and to make their own informed decision on attendance. Click here to view one of the many websites that offer state by state policy information.
Congratulations to the 2019 Senior Amateur Tour National Champions!
Left to Right: Mike Hymel, Louisiana- Championship Flight
Marty Martinez, Eastern North Carolina- A Flight
David Ohrn, Eastern North Carolina- B Flight
Paul Harris, Indiana-Western KY- C Flight





Mike Hymel wins the 2019 Senior Amateur Golf Tour Championship by firing a four under par final round of 68!
HILTON HEAD ISLAND, S.C. – Mike Hymel from the Louisiana tour wins his first ever Senior Amateur Tour Championship title by five shots over three other players.  Mike Hymel shot 75-68-143 followed by Chad Frank (Orlando) 76-72-148, Don Duet (Louisiana) 72-76-148 and Terry Lanning (Hilton Head) 70-78-148.  Rich Campbell (Columbus) and Rob Fulford (Charlotte) rounded out the top five spots at 149.
Over 325 players competed on four courses—two in Palmetto Dunes (Trent Jones and Arthur Hills), Dolphin Head CC & the Palmetto Halls Arthur Hills course—making this the largest Senior Tour Championship field ever.
In the A flight, Marty Martinez (Eastern NC) led by two strokes going into the second day's round at Dolphin Head CC.  After the first nine holes Ronnie Averett (Louisiana) had taken the lead by one shot.  Martinez tied Averett with a birdie on the tenth and regained the lead after fourteen.  On the seventeenth hole Martinez sealed the victory with birdie as he fired a one under par back nine for the victory.  Marty Martinez' winning scores were 72-75-147 followed by Jeff Carnacchi (Nashville) 76-76-152 and Ronnie Averett (Louisiana) 76-77-153.  Robert Yurasovich was fourth at 154 followed by Eric Neidermeyer (Louisiana) and Oz Helgeland (North Central Florida)
David Ohrn of Eastern North Carolina fired a two day total of 76-81-157 to win the B Flight Championship by just one shot. Ray Rodriguez (Orlando) finished in second at 158.  Houston Shaw (Central Carolina) Britt Theriot (Louisana) and Jim Flowers (Jacksonville) all tied at 161.
The C Flight Champion went to Paul Harris from the Indiana-Western KY tour with 85-85-170. Gary Burr (North Central Florida) and Chris Inglot (Chicago) tied second at 175.  Dave Schrott (North Central Florida) was fourth at 177 and Robert Luter (Arkansas) and Mark Sikes (Charlotte) tied fifth with 178.
The Louisiana Tour took the Team Cup over defending champions Charlotte, NC by one stroke with a two day total of 1289 stokes. The Charlotte, NC Tour was second with 1290 shots followed by the Orlando, FL Tour (1319), the Central Carolina Tour (1320) and the Columbus, OH Tour (1338).