The 2023 Senior Amateur Tour Championship will be held October 18-19 with a flighted skins game on October 17.
Congratulations to the 2022 Senior Amateur Tour National Champions!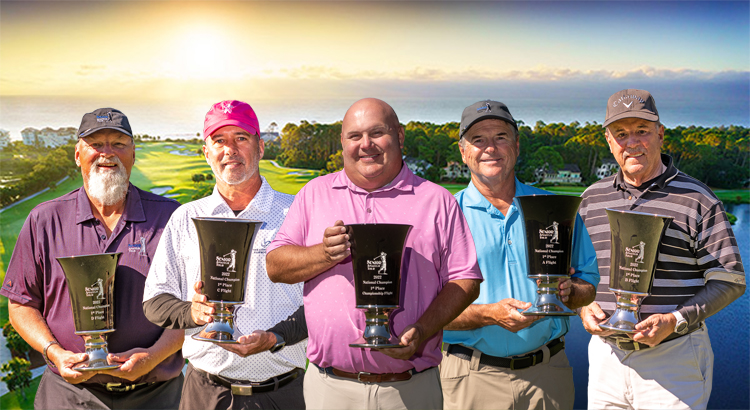 Left to Right: Les Tice, Tampa, FL - D Flight
Scott Brunt, Jacksonville, FL - C Flight
Scott Patnode, Charlotte, NC - Championship Flight
Greg Connell, Alabama - A Flight
Ray Rodriguez, Orlando, FL - B Flight







Scott Patnode shoots 69-69-138 six under par to break the all-time scoring mark at the Senior Amateur Tour Nationals!
HILTON HEAD ISLAND, S.C. – Over 456 players competed on six courses—two in Palmetto Dunes (Trent Jones and Arthur Hills), Bear Creek, Oyster Reef, Dolphin Head & the Palmetto Hall's Arthur Hills course—making this the largest Senior National Championship field ever. This also marked the first time the Nationals included the D Flight as well.

Scott Patnode from the Charlotte, NC tour won his first Senior Amateur Tour Championship title in the Champ Flight by seven shots and set the new low scoring record for the 36-hole competition. Patnode fired 69-69-138 for a six-under-par to win. Five players tied in second place with two-day scores totaling 145. Central Carolina's Trent Gregory won all the ties breakers to finish in solo second place with scores of 74-71-145. George Harris (Charlotte, NC) shot rounds of 73-72-145 for third place followed by Richard Ames (Jacksonville, FL) with 73-72-145 in fourth. Ernie Watson (Indiana-Western KY) was fifth 72-73-145 followed by last year's National Champion Dale Fuller from the Eastern, NC Tour (71-74-145). The Championship flight competed on Dolphin Head and the Robert Trent Jones course in Palmetto Dunes.

In the A flight, Greg Connell (Alabama) won by four strokes based on his open day 72 at Bear Creek. Connell went on to shoot 77 at Arthur Hills Palmetto Dunes for a two day total 72-77-149. Steve Evans (North Central FL) finished solo in second with scores of 76-77-153 followed by Orlando's Al Clerico at 78-76-154 and Mike Dowless (Eastern NC) 77-77-154. Ronnie Averett (Louisiana) rounded out the top five scores with 76-82-158.

Ray Rodriguez of Orlando fired a two-day total of 79-81-160 to win the B Flight Championship by six shots over two other players. Richard Pringle (Michigan) and Curtis Ramey (Jacksonville) finished tied for second at 166 (Pringle claimed solo second place on the card playoff). Four players all shot 167 and were tied for fourth Nolan Elenz (Charlotte NC) had the scorecard win followed by Michael Anderson (Cincinnati/Dayton), Greg Ikerd (Louisiana) and Rick Wigginton (Indiana-Western KY).

The C Flight Champion finished with five players all tied with two-day scores of 179. After the first play-off hole, the field of five was down to just two people Scott Brunt from the Jacksonville, FL Tour (84-95-179) and James Briggs from the Myrtle Beach Wilmington Tour (88-91-179). It took the duo two more times playing hole 18 at the Arthur Hills Palmetto Hall course before Scott Brunt claimed first place and Briggs took second. Rob Luter, former National Champion from Arkansas (87-92-179), and Steve Anneshansley from the Columbus, OH Tour (87-92-179) finished tied for third place and Jim Manning (99-91-179) from the local Hilton Head-Savannah finished fifth.

This was the first time the Senior Amateur Tour included a D flight. Les Tice from the Tampa-Sarasota, Florida Tour was crowned the first D Flight National Champion after winning by eight shots. Tice led the way both days with winning scores of 91-88-179. Gary Hedges (Cincinnati/Dayton) finished solo-second with scores of 96-91-187 followed by Jay Thompson (Washington DC Metro) at 92-97-189. Rounding out the top six scores were Paul Kinsella (Alabama) 99-91-190, David Schmidt (Augusta, GA) 97-94-191 and North Central Florida's Robert Boozer at 94-97-191.

The Jacksonville, FL tour took home the Team Cup winning by thirty three shots with a two-day total of 1661. Orlando finished solo second at (1694) followed by Charlotte with (1713). Eastern NC finished in fourth with (1726) and rounding out the top five teams was Louisiana at (1727).
Thanks to Palmetto Dunes and the Arthur Hills course for being host again for this year's National Championship. The Senior Amateur Tour grew to 23 tours in 2022 and will add five more in 2023.