Orlando, FL
WhatsNew: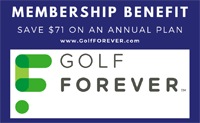 Sign up today for Golfweek's FREE newletters reporting on the latest and greatest happenings in the game of golf.
The 2021 Florida Senior Regional at Mission Inn Resort

FLORIDA SENIOR REGIONAL @ MISSION INN RESORT

CHAD FRANK TAKES TOP SPOT, MIKE LEGEZA WINS A-FLIGHT PLAYOFF, NOLAN ELENZ SCORES ACE


Nolan Elenz, Charlotte, Scores Ace in Saturday's first round at Mission Inn

Howey-In-The-Hills, FL 94 players from 14 Senior Amateur Tours across the country gathered at the beautiful Mission Inn Resort for the second Florida Senior Regional. Chilly weather greeted the golfers all weekend. But it did not diminish everyone's enjoyment of two of the top courses in Florida.

The first day was highlighted by Nolan Elenz's ace on Las Colinas' 15th hole. He put a 9-iron in the cup on the 135 yard par 3. And, it was his first shot of the day! His group started on #15. Amazing..

Congratulations to all the prize winners and a big thank you to all who came to play!


Chad Frank, Orlando

Championship Flight—Tour veteran Chad Frank opened with 72 on Saturday and followed it with 74 Sunday to cruise to a 9 stroke victory over Tony Boatic from Southeast VA tour, John Ward and Bill Shufelt (both of Orlando).


Mike Legeza, Jacksonville

A Flight—Mike Legeza (Jacksonville) and Barry Hauser (Orlando) tied with 36 hole scores of 161 to force a playoff in A Flight. Mike took the title on the second extra hole.. Jason Manning and Al Clerico, both Orlando players were two strokes back.


Terry Dunn, Atlanta

B Flight—Terry Dunn (Atlanta) led the way in B flight with 79-83-162. Steve Johnson (Orlando) was second with 169. Jerry Drewry (Nashville) took third on 170.


Gerard Brennan, Myrtle Beach

C flight—Gerard Brennan (Myrtle Beach) posted 84-86-170 to ease past Scott Brunt (Jacksonville) by four to take the cyrstal. Tied for third, one more stroke back was Jue Hatcher (Jacksonville) and Jerry Fleming (Tampa).