Eastern NC
WhatsNew: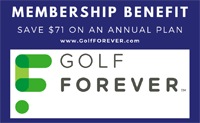 Sign up today for Golfweek's FREE newletters reporting on the latest and greatest happenings in the game of golf.
2021 SENIOR MASTERS

The 2021 Senior Masters
River Landing

Wednesday & Thursday, September 8th & 9th


$15

per day for

Flight Skins* (CH/A) (B) (C)
$10 per day for LOW NET FLIGHTED (CH/A) (B) (C1) (C2)
$5 per day for Poleys**

($60 Covers both days)

*Flights must have 10 or more players for skins otherwise flights combined as Champ/A or B/C)
**Poleys (all Par 3s) Players must hit their tee shot within a flag stick of the hole and place a "P" on the official scorecard next to your score




DAY #1 RAFFLE - MASTERS AUTHENTIC FLAGS (4-WINNERS)

DAY #2 5050 (MINIMUM 2-WINNERS)

TICKETS- 1T/$5 3T/$10 10T/$20

"ENC SPECIAL" PRE-PAY FOR EVENT RECEIVED DOUBLE TICKETS PURCHASED AT CHECK IN BOTH DAYS!!!