WhatsNew: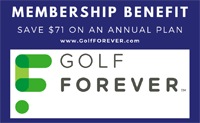 Sign up today for Golfweek's FREE newletters reporting on the latest and greatest happenings in the game of golf.
COVID-19 Update
The Golfweek Amateur Tour and Senior Amateur Tour have created a series of policies to enable our participants to continue tournament play in the safest possible environment. We are proud of our long-standing commitment to provide amateur golfers the chance to play like the pros in professionally run tournaments. We have always, and will always, focus on producing quality events where people can compete fairly, have fun, build relationships and play great courses across the country. Given the unprecedented times associated with the Coronavirus, we are constantly monitoring the recommendations of the Centers for Disease Control and staying up to date with the latest information. We will implement our COVID policies until the guidelines set forth by the local, state, and national agencies warrant their removal. In addition, we are keeping current with the PGA of America and the best practices within the golf industry to make responsible decisions on an on-going basis.
As a result, each local tour is up and running while utilizing the guidelines provided by local government officials, health departments and individual golf courses. Please consult our website and reach out to the local tour director for specific information regarding a particular event. Our goal is to continue doing what we do for our members as we move forward throughout the 2020 season.
Please keep in mind that all players attending a Golfweek Amateur Tour or Senior Amateur Tour event do so at their own risk and must self-screen before a tournament. By registering for and participating in a Golfweek Amateur Tour or Senior Amateur Tour event, players agree to our COVID policies.
It is the responsibility of all players to read, understand and abide by our stated policies (below) and the information provided by the CDC and local health departments (linked here) regarding COVID-19. 
All players must self-monitor for the signs and symptoms associated with COVID-19. If a player does not feel well and/or exhibits any of the symptoms outlined by the CDC, he/she must stay home and take the proper precautions. The CDC list of COVID-19 symptoms may be found here.
If an individual has been exposed to someone with a confirmed case, he/she must self-quarantine for 14 days prior to playing in a Golfweek Amateur Tour or Senior Amateur Tour event. CDC guidelines regarding self-isolation may be found here.
Players must social distance by remaining 6 feet apart whenever possible (on the course and throughout the practice facilities). Keep in mind that golf courses operate on a multi-phase approach. When sharing carts is permitted, a facial cloth covering is recommended for people that are sharing a cart but do not live in the same household. Although some courses accommodate requests for individual carts (sometimes at an extra cost incurred by the participant), individual carts are not guaranteed at any event where guidelines permit two people per cart. Walking and the use of pull carts are allowed as an option at all events during this time (the cost remains the same for walking unless stated otherwise by the local director).
Players must refrain from touching their fellow competitors and their equipment before, during or after the round. This includes the traditional handshake and removing the flagstick. Any player that takes the flagstick out to putt will be assessed one (1) stroke per occurrence. Multiple infractions will result in disqualification.
Effective immediately, spectators will no longer be allowed at any event.
Any player wishing to withdraw from an event due to COVID-19 will be given a full refund.

We appreciate your understanding and flexibility while we work through the challenges associated with tournaments amid COVID-19.